Howdy, y'all! It's been a while and a half since I've visited these parts. Didn't have much of anything I wanted to write about, at least not publicly, so I've kept my mouth shut. But it's World Championships time again, so chatterbox mode, activate! Couch Potato Pundit reporting for duty, Dutchie covers in hand. My neighbours are about to hate me again, but a so life go.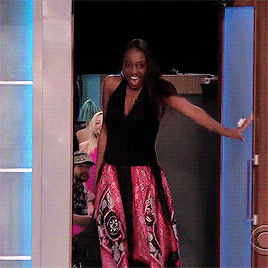 This World Champs will be a bittersweet one for Jamaicans at home and in the diaspora. Although we're looking forward to our athletes winning some medals, and seeing king Usain Bolt create magic on the track, this occasion marks the last time we will get to see him in action. Saturday, August 12, at approximately 3:50PM local time (or 2:50PM. I don't maths very well), will be the very last time Jamaicans get to cheer for our sporting hero as he crosses the finish line. (That's provided all goes well in the relays, cuz it's a relay and anything can happen, but I cancel, cramp and paralyse every plan of the enemy against our team, in Jesus' name!)
I don't know about anybody else, but I'm already in my feelings. We've all lulled ourselves into a sense of security and/or superiority with Usain on the track, as we were sure of at least three gold medals. After these championships, we're back to being mere mortals. Sigh… Life comes at you fast, man.
Anyway, things haven't started yet, so lemme stop rambling and get to the meat of the matter here. Whatever else happens, and however many medals our athletes manage to bring home, here are the five things that have to happen for me to not lose my mind over the next ten days:
Usain St Leo Bolt sprinting into retirement in a blaze of golden glory. Issa must, or World Champs 2017 afi go lock dung. I'm always confident in Usain when he lines up in a race, and most importantly, he's always confident in himself. I know the seven or eight other guys beside him will want to upset the apple cart, but if the king is fit, the king will win. The others can fight for gold in 2019, sorry. Andre De Grasse should have taken a look at Yohan Blake as a cautionary tale when it comes to trying to dethrone the king: stay in your lane. Man pushed and pushed and overextended himself, and now he'll have to watch it all unfold from the comfort of his living room, or wherever. And I was so looking forward to watching both Usain and Yohan put him under manners. Cho!
Elaine Thompson dusting out Schippers (and the six or seven other women who will also be in the finals). In my opinion, Elaine has had Dafne's card since 2015, even though the Dutchwoman beat to the finish line that time. This rivalry is only getting started, and this race is our girl's to lose. And she won't lose it. She's been so dominant over the season that Dafne ran herself out of one of the Diamond League races even though Elaine wasn't even in the same country. Talk about having your enemies shook! All inna yu absence dem a lose. There are others to watch out for, like Torie Bowie of the US, and Marie-Josee Ta Lou of Côte d'Ivoire (Ivory Coast), but I don't think any of them will have the answer when Elaine turns on the turbo in the last 30m or so. No siree. Elaine a come fi her tingz!
A Jamaican 1-2 in the men's 110m hurdles. Hurdles are hard and even more unpredictable than relays, but I am salivating at the prospect of Omar McLeod and Ronald Levy going 1-2 in the finals. Please, Puppa Jeezas. McLeod hasn't lost an ounce of form since last season and looks as dangerous as ever. Levy has seemingly come from out of the deep blue nowhere to announce himself as a challenger to the Warrior Child, and I am here for the duel. I'd love for McLeod to win, because I'm all about securing legacies, but I love a good underdog upstagement, too. Edit: And I completely forgot about Hansle Parchment! Parchy, who snatched a silver medal at the last World Champs in Beijing, could very well factor into this 1-2, as well. Fawda God, suppose dem even manage to pull off a 1-2-3 like the USA women did at the Olympics last year?! We would need an extra national holiday in this lovely Emancipendence month to celebrate. The law is not a shackle, as a former PM once said. Let's go, gentlemen!
Brother Yohan finally winning 200m gold. Usain will be allowing someone else to take the 200m crown, because the man knows his body and knows he's just not in the physical condition to go three rounds in his pet event. And if you know anything about Usain and the 200m, you know he'd probably rather lose a limb than lose a 200m race, especially on a stage like this. So, in the absence of the king, it's up to the crown prince to see if he can throw a wrench into Wayde van Niekerk, Isaac Makwala and Akani Simbine's plans and keep the title in Jamaican hands. We're still not 100 per cent sure of his physical condition, but bear in mind that he's run the second fastest 200m in history, a race in which he fricking jogged the first 100m, according to my eyes. He won't be running anywhere near 19.26s here, but I hope he can surprise everyone and bring the title home.
Two medals from the field. Please, God.

We haven't done anywhere near as well in the field as we've done on the track, and I'm hoping this year we can start a new trend. We have enough athletes in field events to push for two medals. I don't even care what kind. I'm looking at you, Fedrick Dacres (discus) and O'Dayne Richards (shot put). O'Dayne gave us a bronze last time around in Beijing, and Fedrick looked on track for something special, too, but found the going tough in the final round. Here's hoping for some magic, boys.
Bonus: I've also got my eye on the women's 100m hurdles. Everybody has basically forgotten the existence of defending champion Danielle Williams, all because Keni Harrison like, broke the world record last year, or whatever. Sure, she's the one to beat, but where's the respect for the defending champion, people? It's not like she's invisible. Nobody saw her last year, either, until she crossed the finish line ahead of all the faves. History can repeat itself, so hol' dem, Ants! And I'm very excited to see Yanique Thompson make her senior debut. She's been MIA since ending her high school career, and I hope she can make the finals and challenge for a medal, too. After all, she has international experience (and gold) on her side. Get em, sis!
The experts and analysts have predicted 11 medals for Jamaica this time around. Only time will tell if they were right. I'm hoping we can get there or even surpass that tally, though. What do you think, fellow Couch Potato Pundits?